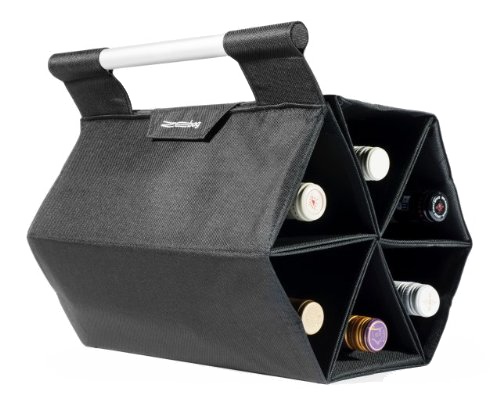 The ZEBag® Ultimate Wine Bottle Carrying Case, a.k.a. "The Wine Tote of Awesomeness" is part of our standard laboratory equipment list. It carries six bottles of wine for your next mission. The bag is sturdy, stylish, and folds flat for storage. Removable end caps fasten with velcro and can be attached or detached as needed.
The bag also folds out into a horizontal wine rack mode. If that's not cool enough for you, it also ships with a wall mount hanger to give you a vertical, wall-mount wine rack option.
It comes in four colors: red, grey, khaki, and black as shown. It's so awesome, we travel with two. We use a red one for our red wines and a grey one for our whites. In case you're wondering – Yes, you can slide a Champagne bottle into one of the sleeves. It makes us wish we had an extra arm so that we could give it three thumbs up!